Plumbing jobs are in high demand throughout the country. These professionals specialize in drainage, sewage, and potable water systems. Listed below are some types of plumbing jobs.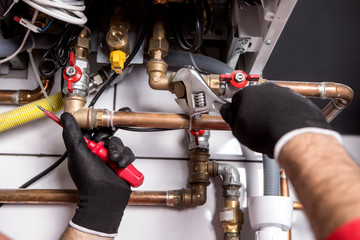 Plumbing jobs require a lot of physicalities and a willingness to get dirty. However, the world's health organization considers plumbers to be front-line health workers. Plumbers design plumbing systems that ensure clean water for proper hygiene and sanitization. Without clean water, sustainable health is impossible. But there are some benefits to becoming a plumber. Here are some of the top benefits of this profession. Below are a few ways to make money as a plumber.
Plumbing jobs are common in homes and businesses and involve installing and repairing pipes, drains, toilets, and other plumbing systems. Plumbing technicians can do both hands-on and design work, drafting blueprints to make the installation process go smoothly. They may work independently or with a team, but the best-paying plumber jobs can be found in unusual specialties. The best way to break into the plumbing industry is to get training. If you're interested in the field, you should consider completing an apprenticeship program.
Plumbing jobs require extensive training and experience. You can specialize in various areas of plumbing, such as air conditioning, sanitation, or ventilation. You can also become an estimator, team leader in larger companies, or even a senior manager. Regardless of your preferred career path, plumbing jobs typically pay well. In addition to a high salary, many plumbing careers are highly flexible and offer mobility upward. And the average plumber will work well into their sixties.
Plumbing jobs require excellent physical and mental attributes. Good vision, flexibility, and good motor skills are necessary. Plumbers work in dark areas and with small tools. They may also use math and physics knowledge. Plumbing jobs often require plumbers to look into sanitation and water supply systems, conduct tests and draft detailed plans to repair mistakes. These jobs require problem-solving skills as plumbers must identify the underlying causes of problems and think logically to solve them.
Plumbing jobs often require cutting holes in walls and ceilings to access the pipes. Sometimes plumbers need to hang steel supports from ceiling joists to reach the pipes. They can also bend pipe lengths and connect them with fittings. They may have to use adhesives or solder if they're dealing with plastic or copper pipe. Lastly, plumbing jobs can be messy, so plumbers must have the patience to be safe.
Plumbing jobs require special tools and expertise. Many plumbers charge a trip fee. These fees cover the distance between their location and the job site. This fee can range from $50 to $300. The homeowner pays the lowest trip fee if the plumber is located within the same service area. Other plumbers may not charge a trip fee. Nevertheless, they may charge a minimum service fee of one to two hours. Regardless of your specific situation, plumbing companies provide the best solutions for your plumbing problems.
The average hourly rate of plumbers varies widely. A journeyperson plumber earns about $70 to $120 per hour. A journeyperson plumber is licensed to complete simple household repairs but requires a master plumber to handle complicated problems. Apprenticeship programs take four to five years and involve 2,000 hours of on-the-job training. Apprenticeships require a high school diploma, and the applicant must be at least 18 years old. During their apprenticeship, apprentices learn plumbing codes, blueprint reading, and safety.
In addition to working for a plumbing company, plumbers can also work independently. Master plumbers operate their own plumbing business and can hire junior plumbers. In addition, they take on management, financial, and legal responsibilities. Often, these plumbers have certifications for their business, which helps them scale their operations. These plumbers may specialize in a specific area of plumbing. The following jobs are available to plumbers. If you're interested in becoming a plumber, consider applying for an apprenticeship program today.
Plumbing contractors have more advanced training. They deal with new construction, remodeling, and septic systems. They may work for a larger plumbing company, but plumbers own many smaller plumbing companies. A plumber may be a contractor but doesn't have the depth of experience or license needed for more complex plumbing jobs. Plumbing contractors are a specialty. They work on larger-scale projects and can handle more complex plumbing jobs. The average annual salary of a plumber is $58,360.